About
Click
here
for full CV.
Click
here
to find me on ResearchGate!
Click
here
to find my Google Scholar profile.
Education
PhD Bioinformatics and Computational Biology - UNC Chapel Hill (in progress)
Certificate in Cardiovascular Science - UNC Chapel Hill (in progress)
​BS Mathematics with distinction, BA Biology - Duke University 2015
Research Interests
Broadly: modeling biological systems
Specifically: cancer, immunotherapy, autoimmunity, lymphatic flow and development, gene regulation and networks
More Detailed Bio
I am currently a PhD student in Bioinformatics and Computational Biology at the University of North Carolina at Chapel Hill. I graduated from Duke University in December of 2015 with degrees in Mathematics and Biology, where I studied mechanistic models for cancer growth and response to treatment under Rick Durrett. Prior to attending Duke, I worked at the Sartorius-Stedim Biotech Center at UNC Pembroke studying the growth patterns of Photorhabdus luminescens bacteria under Len Holmes and Guo Wei. I am currently working with Laura Miller at UNC where I am focusing on mathematical models for lymphatic development, which ultimately determines lymphatic function. I enjoy the unique perspective that comes from studying systems at the intersection of math and biology, allowing ideas from one discipline to cross over into the other and advance knowledge in ways that otherwise wouldn't be possible.
Publications
Anne Talkington (2017), "Undergraduate research highlight: Modeling movement behavior among interacting species," Women in Mathematical Biology. Association for Women in Mathematics Series, Vol.8. DOI 10.1007/978-3-319-60304-9_12.
Anne Talkington, Claudia Dantoin, Rick Durrett (2017), "Ordinary differential equation models for adoptive immunotherapy," Bulletin of Mathematical Biology. DOI 10.1007/s11538-017-0263-8.
Anne Talkington, Rick Durrett (2015), "Estimating tumor growth rates in vivo," Bulletin of Mathematical Biology. DOI 10.1007/s11538-015-0110-8.
"More than Research: A Day in the Life of a Biomathematician" (Association for Women in Mathematics Bulletin, 2013)
Anne M. Talkington, Floyd L. Inman III, and Leonard D. Holmes (2013), "A novel method for determining microbial kinetics," Journal of Life Sciences, Vol.7, No.8, pp.787-790.
Anne Talkington, Floyd Inman III, Leonard D. Holmes, and Guo Wei (2013), "An extension to a logistic model for microbial kinetics," Advances in Systems Science and Applications, Vol.13, No.1, pp.80-99.
My Projects
Lymphatic Development

I am currently studying optimal branching patterns for lymphatic development, and the implications of this branching structure for lymph transport. I am taking a computational fluid dynamics approach to model flow through lymphatic vessels, with the goal of understanding how the system typically functions vs. abnormalities that arise in diseased cases.
Cancer and Immunotherapy
My work on microbial populations inspired my next research question: how do other systems grow? I began studying the trajectories of cancerous tumors, which share many characteristics with better-understood growing populations. After all, a tumor is a collection of cells! However, things get a little messier when we move from a laboratory setting to a clinical setting with significantly less control over the (
in vivo
) sample. I worked with Rick Durrett to explore a variety of models, including basic exponential growth, power law growth, Gompertzian growth, and generalized logistic growth. Based on data obtained prior to treatment of the patients, we found that a breast cancer data set and two liver cancer data sets exhibit simple exponential growth, whereas neurological two cancer data sets follow a 2/3 power law model more closely.
Having a basic understanding of what cancer does when left untreated, we then began to consider treatment options, specifically adoptive immunotherapy as one of the newer "hot topics" for cancer research. We chose to study immunotherapy working in the body as a dynamical system, simplified so that it resembled an enhanced "predator-prey" model. Our work was to determine the most effective way of mathematically studying immunotherapy, with an ultimate goal of clinical application. We reviewed several existing models from recent literature, and then modified them to suggest conditions under which immunotherapy can be successful.
Read about our research in the news!
http://www.dukechronicle.com/article/2016/02/researchers-successfully-model-tumor-growth-with-limited-data
http://today.duke.edu/2015/11/cancermath
​https://math.duke.edu/news/anne-talkington
Microbial Population Growth

I studied the growth patterns of Photorhabdus luminescens microbial populations in the Sartorius-Stedim Biotechnology Research and Training Lab. The overall aim of the project was to determine a more efficient and reliable way to measure microbial growth rate. Working from a controlled population of bacteria, maintained in the lab's fermenter, I developed a new Taylor series-based model for accurate population modeling and prediction of the rate parameter. This technique was adopted by the lab, and I went on to explore the formula in the context of other growing biological systems, including cancerous tumors.
Powered by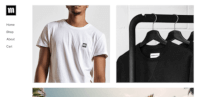 Create your own unique website with customizable templates.